We believe that acoustic guitar and electric guitar are quite different, and standard guitar lessons do not typically address many issues critical to success with the acoustic guitar. We plan to change that one session at a time.
This class is designed for absolute beginner guitar player looking to learn how to play.
We will focus on demonstrations and exercises from this material in order to teach Fingerstyle/Fingerpicking techniques, appropriate use of capo, picks, etc.
Basic music theory will be introduced and reinforced as we proceed, however reading music is not necessary.
The course will be an adult group meeting once per week on Saturday at 2 pm. If this slot fills up we will add additional times so that the group remains the proper size to optimize progress.
Leave your worries at the door and immerse yourself in the music.
Call 570-970-9999 to reserve your spot or stop by the studio in the East End Centre Wilkes-Barre(near Big Lots) after 4 pm Monday -Thursday or 11 am to 4 pm on Saturday.
We are offering a First Session Discount of $149 for the 8 week course.
Call or stop by today.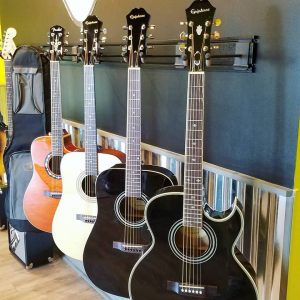 ---